My Blog
Posts for: January, 2015
By Stanek Family Dental
January 29, 2015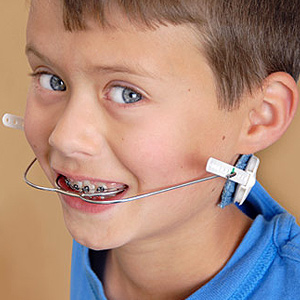 Most of us are quite familiar with what traditional braces look like. But occasionally we see more complex-looking devices being worn by young orthodontic patients: thicker wires that extend outside the mouth, with straps that may go behind the neck or over the chin. What are these devices, and why are they sometimes needed?
In general, orthodontic appliances with external parts braced by the head, neck or chin are referred to as "headgear." These devices may be used to handle a number of particular orthodontic situations, but they all have one thing in common: They provide the additional anchorage needed to move teeth into better positions.
It may come as a surprise that teeth, which seem so solid, can actually be moved fairly easily over time. This is because teeth are not fixed directly into bone, but are instead held in place by a hammock-like structure called the periodontal ligament. Using a light, controlled force — such as the force of springy wires and elastics in traditional braces — teeth can be moved slowly through the jaw bone, like a stick being pulled through sand.
Of course, to pull a stick through sand, you need a firm anchorage — your legs, for example, bracing against a rock. Most of the time, the back teeth, with their large, multiple roots, provide plenty of support. But sometimes, the back teeth alone aren't enough to do the job.
If a very large space between teeth is being closed, for example, the back teeth might be pulled forward as the front teeth are pulled back; this could result in poor alignment and bite problems. In other cases, the front teeth may need to be pulled forward instead of back. The back teeth can't help here; this is a job for headgear.
Some types of headgear have a strap that goes behind the head or neck; they use the entire head as an anchorage. Other types, called "reverse pull" headgear, have a strap that comes over the chin or the forehead; they can pull teeth forward. Headgear can even influence the proper growth of facial structures — that's why it is usually seen on preteens, whose growth isn't yet complete.
Headgear is usually worn for 12 hours per day, for a limited period of time. In some cases, rather than headgear, appliances called "temporary anchorage devices" (TADS) may be recommended. These are tiny screws that are implanted into the jawbone in a minimally invasive procedure, and serve a similar function.
While it may not look pretty, orthodontic headgear is capable of moving teeth into their proper positions in a relatively short period of time — and ending up with a great-looking smile is what orthodontics is all about.
If you have questions about orthodontic headgear, please call our office to schedule a consultation. You can read more in the Dear Doctor magazine article "Moving Teeth With Orthodontics."
By Stanek Family Dental
January 14, 2015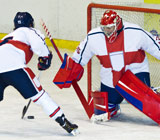 It might seem that adults who play aggressive, high-contact professional sports (ice hockey, for example) have the highest chance of sustaining dental injuries. But for many — like NHL hall-of-famer Mike Bossy — their first injured teeth came long before they hit the big time.
"The earliest [dental injury] I remember is when I was around 12," the former New York Islanders forward recently told an interviewer with the Huffington Post. That came from a stick to Bossy's mouth, and resulted in a chipped front tooth. "Unfortunately, money was not abundant back in those days, and I believe I finally had it repaired when I was 16." he said.
You may also think there's a greater chance of sustaining dental trauma from "collision sports" like football and hockey — but statistics tell a different story. In fact, according to the Academy of General Dentistry (AGD), you (or your children) are more likely to have teeth damaged while playing soccer than football — and basketball players have a risk that's 15 times higher than football players.
So — whether the game is hockey, basketball or something else — should you let the chance of dental injury stop you or your children from playing the sports they love? We think not... but you should be aware of the things you can do to prevent injury, and the treatment options that are available if it happens.
Probably the single most effective means of preventing sports-related dental injuries is to get a good, custom-made mouth guard — and wear it. The AGD says mouthguards prevent some 200,000 such injuries every year. And the American Dental Association says that athletes who don't wear mouthguards are 60 times more likely to sustain harm to the teeth than those who do.
Many studies have shown that having a custom-fitted mouthguard prepared in a dental office offers far greater protection then an off-the-shelf "small-medium-large" type, or even the so-called "boil and bite" variety. Using an exact model of your teeth, we can fabricate a mouthguard just for you, made of the highest-quality material. We will ensure that it fits correctly and feels comfortable in your mouth — because if you don't wear it, it can't help!
But even if you do have an injury, don't panic: Modern dentistry offers plenty of ways to repair it! The most common sports-related dental injuries typically involve chipped or cracked teeth. In many cases, these can be repaired by bonding with tooth-colored composite resins. For mild to moderate injury, this method of restoration can produce a restoration that's practically invisible. It's also a relatively uncomplicated and inexpensive procedure, which makes it ideal for growing kids, who may elect to have a more permanent restoration done later.
If you have questions about mouthguards or sports-related dental injuries, please contact us or schedule an appointment for a consultation. You can learn more in the Dear Doctor magazine articles "Athletic Mouthguards," and "An Introduction to Sports Injuries & Dentistry."