My Blog
Posts for: February, 2015
By Stanek Family Dental
February 23, 2015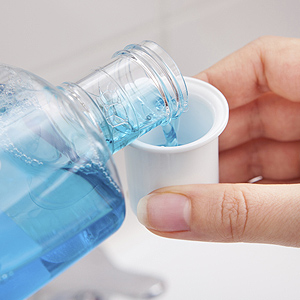 Many people use a mouthrinse as part of their daily oral hygiene. If you'd also like to include a mouthrinse in your regimen, the kind you choose will depend on what you want it to do for you.
If your main desire is fresh breath, then a cosmetic rinse that imparts a minty smell to the mouth should fit the bill. That, however, is all they do — cosmetic mouthrinses don't contribute to oral health beyond your personal satisfaction that your breath is free of bad odors. But, if you want more — added protection against dental disease, for example — then you'll need to consider a therapeutic mouthrinse.
Therapeutic mouthrinses are usually described as anti-cariogenic (prevents decay) or anti-bacterial, and include both over-the-counter (OTC) and prescription rinses. Their purpose is to either strengthen teeth or reduce the mouth's bacterial levels. Of the OTC variety, most contain a small amount of sodium fluoride, which can strengthen tooth enamel. They've proven highly effective: a number of studies show using a sodium fluoride mouthrinse in conjunction with brushing and flossing reduces the chances of new cavities forming.
A number of OTC rinses also have an anti-bacterial effect, usually provided by active ingredients such as triclosan, zinc or essential oils like menthol. Even a slight reduction in bacteria can help lessen the chances of gingivitis (gum inflammation), an early form of periodontal (gum) disease. Reducing bacteria levels may also help alleviate bad breath.
Some individuals, though, have higher than normal levels of bacteria, or a systemic weakness in fighting certain bacterial strains. If this is your case, you might benefit from a prescribed mouthrinse intended to lower bacterial levels. Most prescription mouthrinses contain chlorhexidine, which has been amply demonstrated as an effective anti-bacterial control of tooth decay and gum disease. Chlorhexidine prevents bacteria from adhering to the teeth and so disrupts plaque buildup, the main cause of dental disease. Its prolonged use will result in the dark staining of teeth in some people, but this can be removed during dental cleanings and teeth polishing. Long-term use is generally not preferred compared to getting the proper attention from regular cleanings and examinations.
If you would like more advice on adding a mouthrinse to your daily hygiene regimen, especially to help reduce your risk of dental disease, please feel free to discuss this with us at your next checkup. Regardless of which type of mouthrinse you choose, they should always be used as a complement to daily brushing and flossing, along with regular dental cleanings and checkups.
For more information on mouthrinses, please contact us or schedule an appointment for a consultation. You can also learn more about this topic by reading the Dear Doctor magazine article "Mouthrinses."
By Stanek Family Dental
February 13, 2015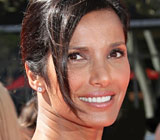 Before she began hosting the long-running TV competition Top Chef, Padma Lakshmi was a well-known model and successful cookbook author. (Appropriately, she is said to have been "discovered" by a modeling agent while sitting in a café in Madrid.) Yet the Indian-born beauty's striking look — at once exotic and familiar — doesn't come from any cookie-cutter mold.
So when Lakshmi had cosmetic work done on her teeth, early in her career, her dentist didn't use a cookie-cutter approach either: Instead, her smile was carefully designed, using small amounts of bonding material to brighten her teeth and to bring their shape and spacing into harmony with her facial features.
Dentistry by Design
What exactly is smile design — and what could it do for you? Essentially, it's the process of evaluating your smile in concert with the appearance of your entire face, and visualizing the changes — some dramatic and some subtle — that will make it really shine. Some aspects we consider include the face's shape, the proportion or "balance" of facial features, the complexion, eye and lip color and form, and the overall dimensions of the smile.
Based on dental aesthetics and clinical experience, we will probably have a number of suggestions to make on how you can improve your smile. Your input will also be very important; while some individuals prefer perfectly even teeth and a sparkling "Hollywood white" smile, others are looking for a result that's more in keeping with a "natural" look: slight irregularities in tooth shape, spacing, and even color.
There's no right or wrong answer here: Having a "perfect" smile means what's perfect for you, so it's very important for dentists and patients to communicate openly during the smile design process. But sometimes, words alone just aren't enough to convey the subtle dimensions of beauty.
The Trial Smile
Fortunately, it's now possible to preview your "perfect" smile using a number of different techniques. Advances in computer imaging make this the first step in previewing your new smile — you can see the changes before a single tooth is touched! Still, many people find that having a more concrete picture is helpful. The next step is to make a 3-D mock-up the proposed dental work on an actual model of your mouth. That way, you can see a physical representation of the final results — and even turn it around and hold it in your hands.
There's still one more way to really experience the difference cosmetic treatments can make without committing to a permanent change: the provisional restoration. Here, tooth-colored bonding material and other techniques are used to actually create the new smile — temporarily. This gives you time to "live with it," and see if the proposed changes work for you. If everything goes well with the provisional work, the permanent restoration is guaranteed to please.
So if you want holiday treats, get out the cookie cutter — but if you're looking for a smile that's uniquely yours, and one that enhances your own individual appearance… call our office and ask about a smile design consultation. You can learn more in the Dear Doctor magazine articles "Great Expectations — Perceptions in Smile Design" and "Beautiful Smiles by Design."