My Blog
Posts for: March, 2015
By Stanek Family Dental
March 25, 2015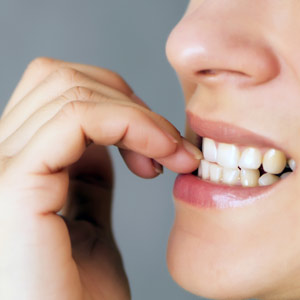 Periodontal (gum) disease is the most likely cause of a loose, permanent tooth. This progressive infection causes damage to the gums and bone tissues that hold teeth in place, leading to looseness and ultimately tooth loss.
Gum disease, however, isn't the only cause: although not as common, excessive biting forces over time may also lead to loose teeth. The excessive force stretches the periodontal ligaments that hold teeth in place, causing the teeth to become loose.
This condition is called occlusal trauma. In its primary form, the patient habitually grinds or clenches their teeth, or bites or chews on hard objects like pencils or nails. Generating 20-30 times the normal biting force, these habits can cause considerable damage. It can also be a factor when gum disease is present — supporting bone becomes so weakened by the disease, even normal biting forces can cause mobility.
If you recognize the early signs of grinding or clenching, particularly jaw soreness in the morning (since many instances of teeth grinding occur while we sleep), it's important to seek treatment before teeth become loose. The symptoms are usually treated directly with muscle relaxants, an occlusal guard worn to soften the force when teeth bite down, or stress management, a major trigger for teeth grinding. The sooner you address the habit, the more likely you'll avoid its consequences.
If, however, you're already noticing a loose tooth, treatment must then focus on preserving the tooth. Initially, the tooth may need to be splinted, physically joined to adjacent teeth to hold it in place while damaged tissues heal. In some cases, minute amounts of enamel may need to be removed from the tooth's biting surfaces to help the tooth better absorb biting forces. Other treatments, including orthodontics and gum disease treatment, may also be included in your treatment plan.
If you notice a loose tooth, it's critical you contact us as soon as possible for an evaluation — if you delay you increase the chances of eventually losing it. The earlier you address it, the better your chances of preserving your tooth.
If you would like more information on loose teeth, please contact us or schedule an appointment for a consultation. You can also learn more about this topic by reading the Dear Doctor magazine article "Loose Teeth."
By Stanek Family Dental
March 10, 2015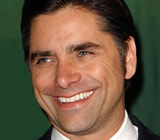 We're always tickled to see dentists represented in popular culture, especially when portrayed by an actor as handsome as John Stamos. On the hit television show Glee, Stamos played a dentist who made sure the glee club members cleaned up their act when it came to oral hygiene — though perhaps he used a bit too much anesthesia to achieve this admirable goal. While under his care — and lots of sedation — several Glee characters had music-infused hallucinations in which they danced and sang with pop star Britney Spears.
Far-fetched? No doubt. Still, it's worth mentioning that sedation has its place in dentistry. In fact, if you are someone who tends to get anxious or even fearful about dental treatment, you should know that sedation can help you relax both mind and body so you can feel peaceful rather than anxious in the dentist's chair. And that's the whole point: Fear of pain should not stand in the way of your getting the care that will keep you healthy and allow you to keep your teeth for as long as possible.
You may not know this, but when you are afraid, your threshold for pain is actually lower. You become hypersensitive to every sensation and sound, and you tense your muscles. Fear and anxiety trigger the release of certain chemicals that put you in "fight or flight" mode. In this heightened state of alert you experience more pain during and even after treatment.
The good news is that this response can virtually be eliminated with various oral sedatives and/or with nitrous oxide, which is inhaled. Both treatments will allow you to let your guard down and relax. Your apprehension and hypersensitivity to pain will disappear, even though you are still conscious. And when you are relaxed, we are better able to focus on the task at hand, knowing that you are comfortable.
The sedatives used in dentistry have been subjected to rigorous testing and have a strong safety record backed by decades of use. Several even have "amnesic" properties, meaning that you will remember little to nothing of your treatment — unless, of course, you end up singing and dancing with Britney Spears!
If you would like more information about sedation in dentistry, please contact us or schedule an appointment for a consultation. You can also learn more by reading the Dear Doctor magazine article "Oral Sedation Dentistry." Dear Doctor also has more on "Overcoming Dental Fear & Anxiety."