My Blog
Posts for: November, 2017
By Stanek Family Dental
November 20, 2017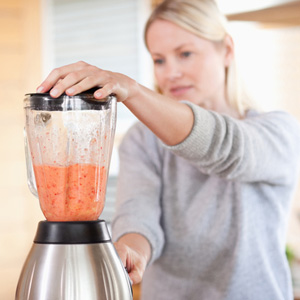 We don't often think about it, but eating is a multi-staged process. It starts, of course, with food that's hopefully high in nutritional value. But you also need coordinated jaw action to chew and shred your food that when combined with the enzymes in saliva can then be effectively digested in the stomach.
But what if you're unable to chew some foods because you suffer from chronic jaw pain and dysfunction? This is the situation for millions of people who suffer from problems associated with the jaw joints—temporomandibular joint disorders (TMD). It's not just the chronic pain and discomfort TMD can cause that's a real issue—it may also be preventing you from eating foods that are healthy for you.
Because TMD can make it difficult to open your jaws wide or causes pain when you bite down, you might especially have trouble with certain fruits and vegetables as well as many meats. Many people opt to skip otherwise healthy foods because they're too difficult to eat. That, however, could lead to lack of proper nutrition in the long run.
But with a few techniques and modifications, you can still include many of these foods in your diet even when TMD discomfort flares up. For one, be sure to cut all your food portions (including toast) into small, bite-sized pieces. These should be small enough to limit the amount of jaw opening required to comfortably place the bite in your mouth and chew. When preparing your food, be sure to peel fruits and vegetables that have skin, which is often hard to chew.
You should also try cooking crisper fruits and vegetables to a soft, moist texture. Choose meat cuts, poultry or seafood that can be cooked to a tender, moist consistency—you can also use gravies and sauces to further moisten them.
And don't forget to chew slowly. Not only does slower eating aid in digestion, it will help you avoid overworking your jaw joints.
With a few adjustments you can have a normal, nutritious diet and minimize the discomfort of your TMD symptoms. Continual healthy eating is a must for overall health and quality of life.
If you would like more information on reducing the impact of TMD on your life and health, please contact us or schedule an appointment for a consultation. You can also learn more about this topic by reading the Dear Doctor magazine article "What to Eat When TMJ Pain Flares Up."
By Stanek Family Dental
November 12, 2017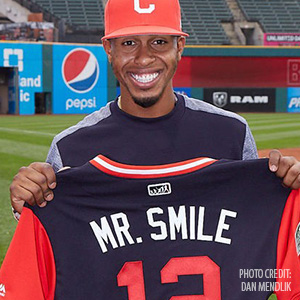 At the first-ever Players Weekend in August 2017, Major League Baseball players wore jerseys with their nicknames on the back. One player — Cleveland Indians shortstop, Francisco Lindor — picked the perfect moniker to express his cheerful, fun-loving nature: "Mr. Smile." And Lindor gave fans plenty to smile about when he belted a 2-run homer into the stands while wearing his new jersey!
Lindor has explained that he believes smiling is an important part of connecting with fans and teammates alike: "I've never been a fan of the guy that makes a great play and then acts like he's done it 10,000 times — smile, man! We've got to enjoy the game."
We think Lindor is right: Smiling is a great way to generate good will. And it feels great too… as long as you have a smile that's healthy, and that looks as good as you want it to. But what if you don't? Here are some things we can do at the dental office to help you enjoy smiling again:
Routine Professional Cleanings & Exams. This is a great place to start on the road toward a healthy, beautiful smile. Even if you are conscientious about brushing and flossing at home, you won't be able to remove all of the disease-causing dental plaque that can hide beneath the gum line, especially if it has hardened into tartar, but we can do it easily in the office. Then, after a thorough dental exam, we can identify any problems that may be affecting your ability to smile freely, such as tooth decay, gum disease, or cosmetic dental issues.
Cosmetic Dental Treatments. If your oral health is good but your smile is not as bright as you'd like it to be, we can discuss a number of cosmetic dental treatments that can help. These range from conservative procedures such as professional teeth whitening and bonding to more dramatic procedures like porcelain veneers or crowns.
Tooth Replacement. Many people hide their smiles because they are embarrassed by a gap from a missing tooth. That's a shame, because there are several excellent tooth-replacement options in a variety of price ranges. These include partial and full dentures, bridgework, and dental implants. So don't let a missing tooth stop you from being Mr. (or Ms.) Smile!
If you'd like more information about oral health or cosmetic dentistry, please contact us or schedule an appointment for a consultation. You can also learn more by reading the Dear Doctor magazine articles "Beautiful Smiles by Design" and "The Impact of a Smile Makeover."