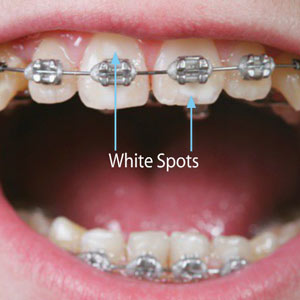 After months of treatment we've removed your braces and your new smile emerges. Upon closer view, however, you notice a number of chalky white spots on your teeth.
These pale areas are white spot lesions (WSLs), the result of mineral breakdown from the long-term contact of acid with the enamel surface. The underlying cause is built-up bacterial plaque due to inadequate oral hygiene, and as such WSLs are the beginning stages of tooth decay.
While anyone can develop WSLs, brace wearers are highly susceptible because of the extra care required to clean around orthodontic hardware. Poor dietary habits such as frequent snacking on sugary or acidic foods and beverages also increase the risk of WSLs.
To reduce the risk of developing this condition, brace wearers must give extra attention and effort to daily oral hygiene, including brushing and flossing. The extra effort required in brushing can be aided by specialized toothbrushes designed to clean around brackets and wires, along with prescription-level fluoride toothpastes for added enamel strength. Floss threaders or a water flosser, a device that uses pulsating water under high pressure, may help you maneuver around hardware to remove plaque between teeth. It's also important to maintain a healthy mouth environment by limiting intake of sugary or acidic snacks and beverages, avoiding tobacco or excessive alcohol or caffeine, and drinking plenty of water to keep your mouth from drying out.
If you've already developed lesions, it's important to stop the decay process before it causes more damage. One way is to assist your body's natural mechanism for re-mineralizing tooth enamel with fluoride pastes or gels or re-mineralizing agents, or undergoing micro-abrasion to repair a tooth's surface.
To improve a tooth's appearance a procedure known as "caries infiltration" involves injecting a liquid tooth-colored resin into the lesion, which is then hardened with a curing light. The spot becomes less noticeable and appears more like normal enamel. For extensive defects, conventional bonding with composite resins or porcelain veneers can be used to cosmetically cover the tooth.
Getting ahead of the problem with effective oral hygiene and good dietary and lifestyle practices will keep WSLs at bay while you undergo orthodontic treatment. If they do develop, however, there are ways to minimize their effect and restore the look of your teeth.
If you would like more information on dental care during orthodontic treatment, please contact us or schedule an appointment for a consultation.